20th Dec 2022
What's New?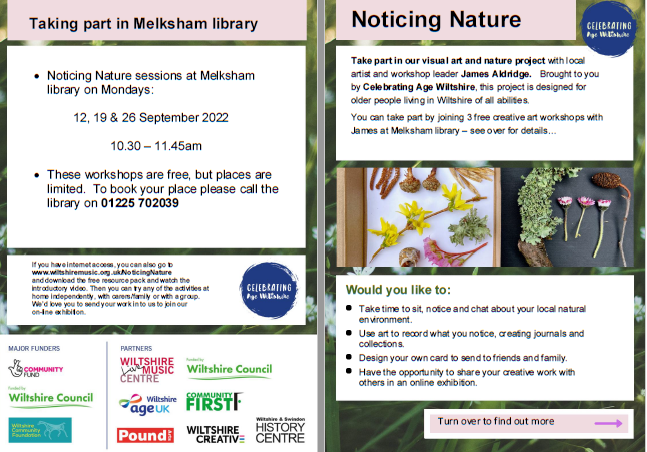 18th Aug 2022
Noticing Nature
Take part in our visual art and nature project with local artist and workshop leader James Aldridge. Brought to you by Celebrating Age Wiltshire, this project is designed for older people living in Wiltshire of all abilities.
You can take part by joining 3 free creative art workshops with James at Melksham library – see over for details…
Would you like to:
Take time to sit, notice and chat about your local natural environment.
Use art to record what you notice, creating journals and collections.
Design your own card to send to friends and family.
Have the opportunity to share your creative work with others in an online exhibition.


Taking part in Melksham library
• Noticing Nature sessions at Melksham library on Mondays:
12, 19 & 26 September 2022
10.30 – 11.45am
• These workshops are free, but places are limited. To book your place please call the library on 01225 702039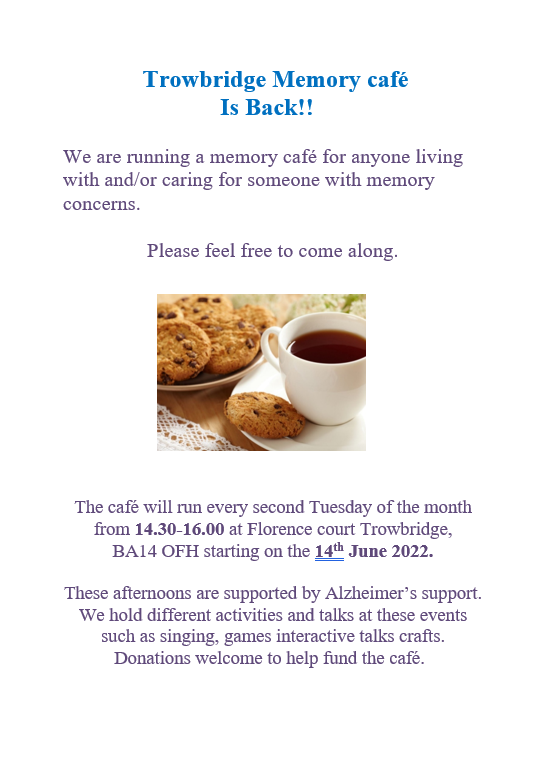 11th Aug 2022
Memory Cafe
We are running a memory café for anyone living with and/or caring for someone with memory concerns.
Please feel free to come along.
The café will run every second Tuesday of the month from 14.30-16.00 at Florence court Trowbridge,
BA14 OFH starting on the 14th June 2022.
These afternoons are supported by Alzheimer's support. We hold different activities and talks at these events such as singing, games interactive talks crafts.
Donations welcome to help fund the café.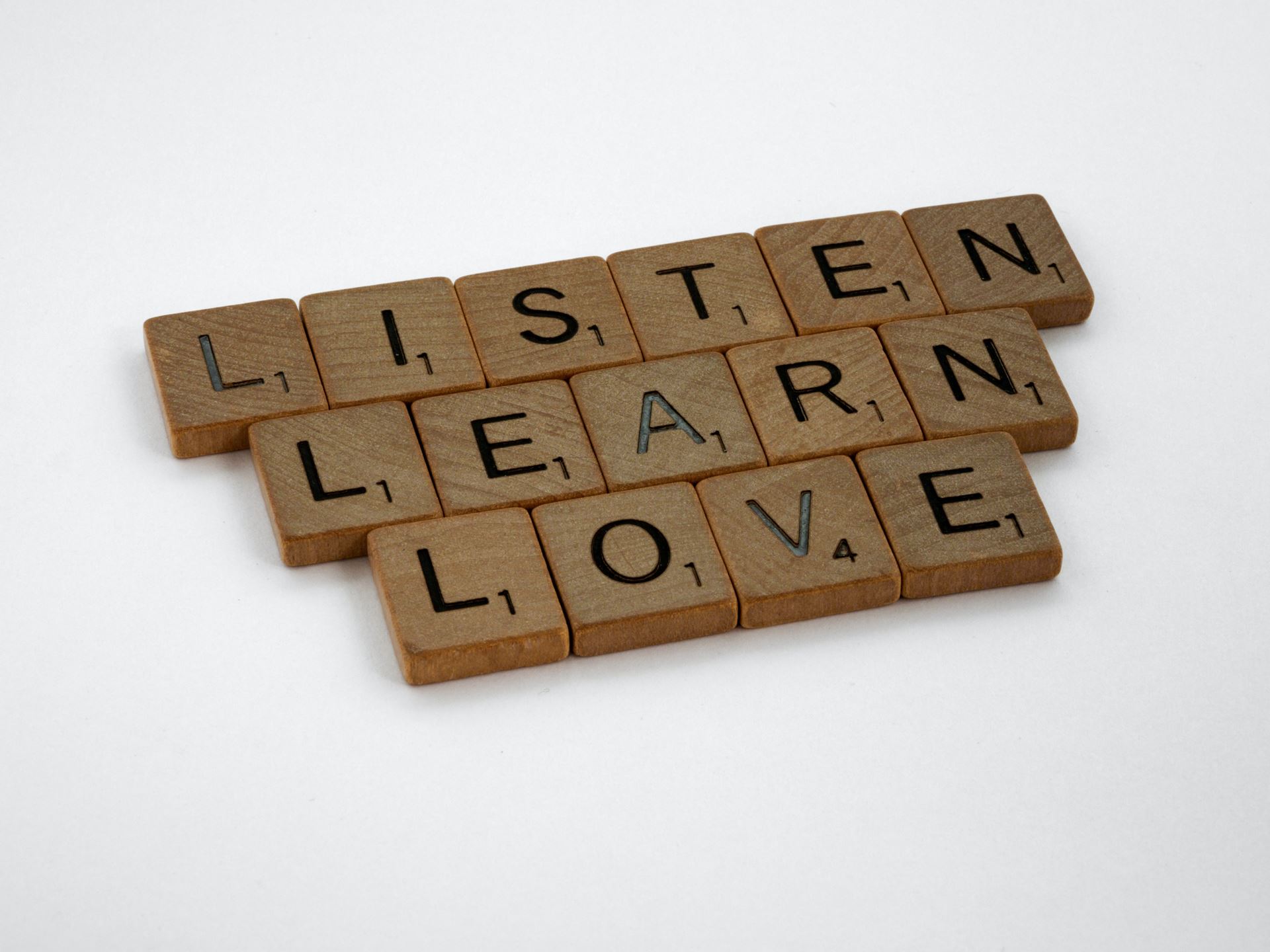 9th Aug 2022
We Hear You
We would like to draw your attention to We Hear You – a charity that provides FREE counselling across Wiltshire and beyond for patients, families, friends and carers (all ages) who have been affected or bereaved by cancer or any other life threatening condition, including Covid.
They deliver 1:1 and group sessions - face to face from clinics in the community and online, as well as working out of some schools in Wiltshire where links have been built. They also run courses on mindfulness, nature and wellbeing and more.
For more information click here for more information.
9th Aug 2022
Service Update - Dortothy House - July 2022
Bereavement Help Points and support groups provided by Dorothy House and partners

The Bereavement Help Point (BHP) is a community based drop-in service, welcoming anyone who has suffered a bereavement. It's a space to meet and talk with others who may be experiencing similar thoughts and feelings.

Last year Dorothy House joined forces with Carer Support Wiltshire to jointly run new Bereavement Help Points in Wiltshire. Together we run BHPs in Devizes, Chippenham and Corsham and Dorothy House runs BHPs in Shepton Mallet and Malmesbury. Trained by Dorothy House, volunteers at Bereavement Support Keynsham also now offer group support.

Bereavement Help Points are free with no referral required and no time limit on attendances. Please signpost your patients, their families and carers and click here to find more information on our website.

For all referrals to Dorothy House and any enquiries regarding our services, please phone 0345 0130 555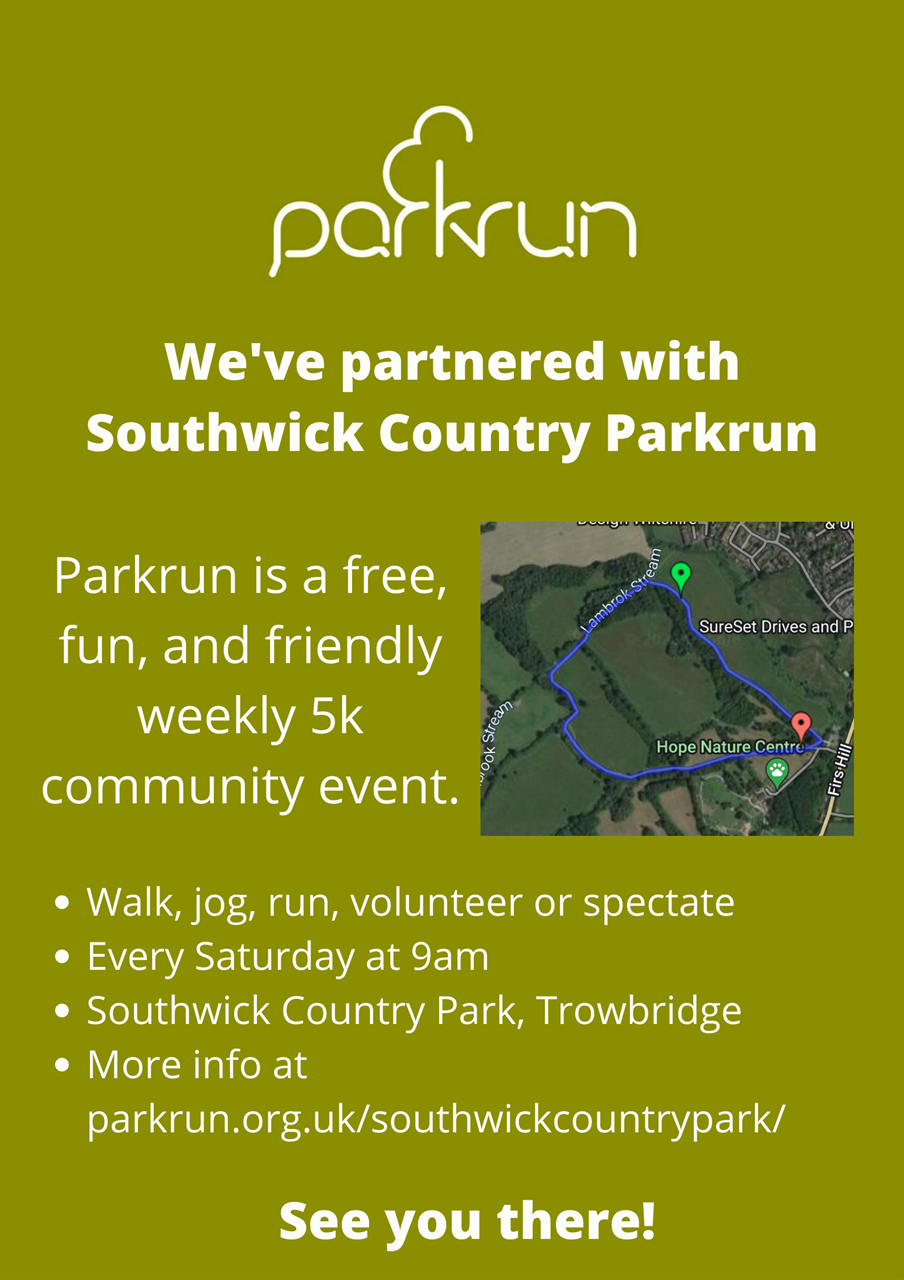 19th Jun 2022
Join us at Southwick Country Parkrun!
For more information please click on the link below:

1st Mar 2022
Digital NHS COVID Pass available to children aged 12 to 15
Children can get an NHS Login in order to generate a digital COVID Pass via the NHS App or nhs.uk without the need to contact their GP.
The NHS COVID Pass service for 12 to 15 year olds went live in early February, and it is accessible via nhs.uk for those aged 12 and over, and the NHS App for those aged 13 and over.
In addition to providing access to the NHS COVID Pass, the NHS App will allow 13 to 15 year olds to access other non-personalised services such as Health A-Z, organ donation and 111 online.
Patients can find out more on the NHS website or by calling 119.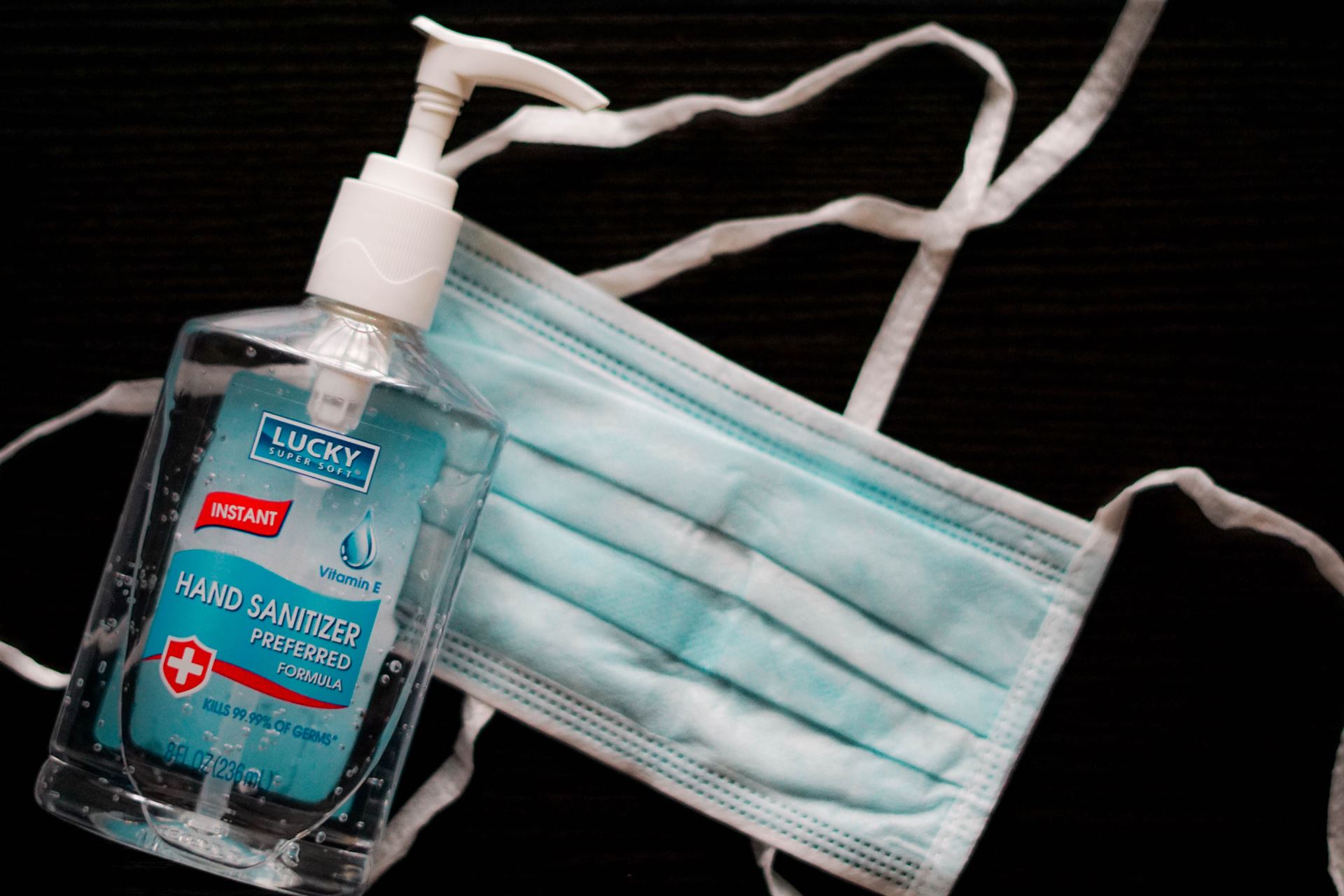 24th Feb 2022
Facemask Policy
If you attend the Surgery in person then please wear a facemask at all times. This is not only to help protect you but also our most vulnerable and seriously ill patients.
Thank you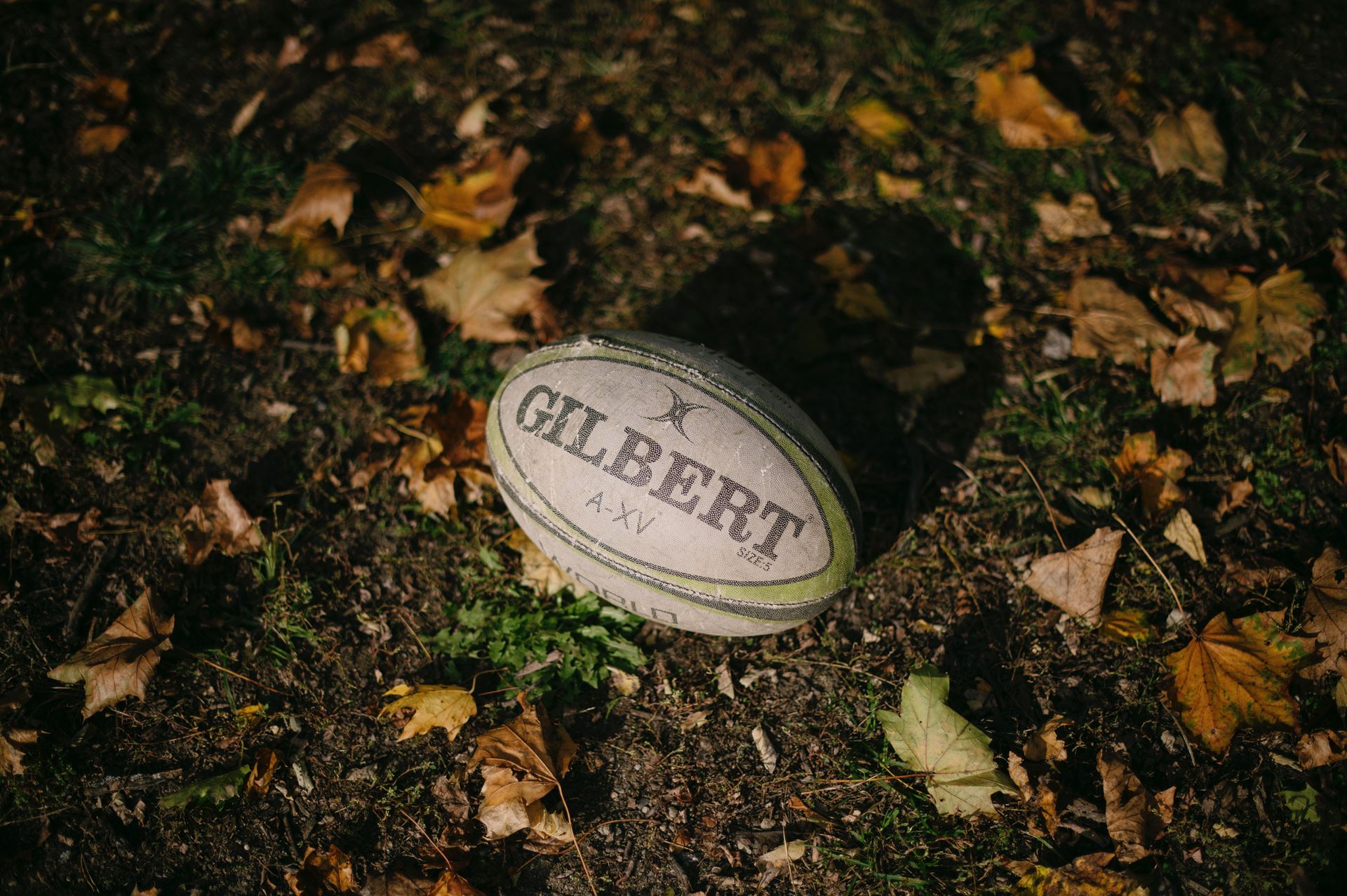 17th Feb 2022
Weight Management with Bath Rugby!
Move with Bath: Bath Rugby and Wiltshire Council free weight loss and fitness programme for men
Healthy Us at Wiltshire council and Bath Rugby are offering a free 12-week weight loss and fitness programme designed specifically for men.
It is open to men living in Wiltshire aged 18 or over, with a body mass index (BMI) of 30 or above (BMI 27.5 or above for BAME participants).
Warminster RFC- Every Monday 6:30-8:00pm from 4th April to 27th June 2022 (No session on 18th April Easter Monday)
What does the course involve?
The sessions involve exercises suitable for all and touch rugby games run by Bath Rugby Foundation coaches. The course also includes interactive sessions with a health improvement coach, covering topics on nutrition, portion sizes, eating out, behaviour change and how to maintain healthy habits for life.
Participants will be supported to improve their diets, to exercise safely and improve their overall health and wellbeing. It is an exciting opportunity for those who want to kickstart or continue their weight loss journey with a team focused on keeping exercise fun and providing the tools for healthy eating!
To get the most out of the course it is expected that participants attend at least 9 sessions, and a weight measurement will be taken each week (all information will be kept confidential and not shared).
Signing up and further information
For more information about the programme and signing up please visit:
https://www.bathrugby.com/community/move-with-bath-wiltshire/
For help calculating your BMI, please visit: BMI calculator | Check your BMI - NHS | Please fill in your details (www.nhs.uk)